Ashburton Teeth Whitening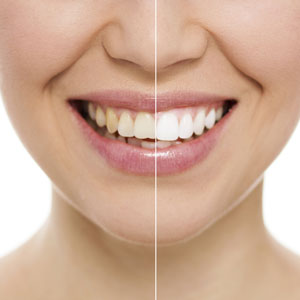 At Cambridge Dental, we can help you show off a beautiful smile for life. The whitening of teeth has become one of the most popular solutions to transform your smile. By brightening the colour of your natural teeth, you can get the gleaming look you want with this noninvasive procedure. It's simple, effective and can be completed at home.
How Stains Set Into Your Teeth
Teeth can become discoloured for many reasons:
A natural stain during the development process
Ageing
Certain foods with strong colourings
Some medications
Drinking coffee, tea or red wine
Smoking
Trauma
Some of these factors can't be avoided and are simply a part of our everyday lives. Fortunately, it is easy to restore your beautiful smile with a teeth whitening procedure.
How Teeth Whitening Works
The enamel of the tooth is the outer surface, and it contains microscopic holes that can trap stains. With a whitening gel, the holes are penetrated by a peroxide-based compound to remove the stains.
Please note that restorations such as fillings, crowns, dentures, bridges or implants will not respond to whitening. Since these are not natural teeth, their colour cannot be altered by the whitening process.
What to Expect During Your Teeth Whitening Procedure
First, we'll see you for a consultation to look at your teeth and gums. We must first ensure that your teeth are healthy enough to be whitened. If you have preexisting issues such as a cavity, these will need to be addressed before you start your whitening. Once you are ready to begin, we'll discuss how whitening works and go over everything that's in your take-home kit.
Your Take-Home Whitening Kit
You'll be given all the materials you need to whiten your teeth in the comfort and convenience of your home. Custom-created trays and gel are included. The trays are made by taking impressions of your teeth and then sent to a local laboratory for fabrication.
You can then decide how many days you'd like to whiten your teeth, though it can take up to 14 days to achieve your desired results. You'll place the gel into the trays and wear them for a specific period of time, which we'll advise you on.
Ensuring Long-Lasting Results
Once you brighten your smile, you want to be able to show off your new, gleaming look for as long as possible. It's important to know, however, that teeth whitening isn't permanent since the factors that contribute to staining are ever-present. You can repeat the whitening process every 12-18 months to keep your teeth sparkling and white.
Frequently Asked Questions
What can I do to preserve the whiteness of my teeth?
There are certain things you can do and avoid to help your teeth stay bright. For example, avoid using tobacco and limit your intake of staining food and drink. Be sure to brush your teeth twice a day and floss daily. Doing so will remove surface stains that can set deeply into your teeth if not addressed.
Am I a candidate for teeth whitening?
There are few contraindications to having teeth whitening done. Most people are candidates for this simple procedure. After your initial consultation, we can determine if it's right for you.
How do I begin?
You can contact us by phone or email to set up your initial consultation. If teeth whitening is appropriate for your situation, we will begin the process as outlines above.
Get Started Today
Call us now to set up your first appointment for teeth whitening Ashburton! We have convenient evening hours and are here for you on Saturdays.

Teeth Whitening Ashburton, Glen Iris VIC | (03) 9885 4281