Dr Ajay Kapadia, Dentist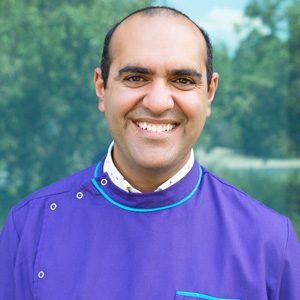 Born and raised in Pakenham with a father who was a general practitioner, Ajay was often told by patients' families how his Dad had made a difference in their lives, and he wanted to be able to do the same. So, when it came time to choose a career path, he looked for a profession where he could use his interest in Health Science in a hands-on way to help people, and dentistry seemed the perfect fit.
After graduating from Melbourne University with a Bachelor of Dental Science in 2002, Ajay worked in a local practice, before opening Cambridge Dental in 2009. For Ajay and his wife, Binita, the driving force to starting their own practice was their passion to create an environment where staff and patients alike feel valued and cared for.
If you're working in a space which makes the work more enjoyable you can concentrate on giving people the care they need."
With that in mind, in 2012 they moved to the practice's present location in a striking, architecturally-designed building where the open spaces allow room for patient's to share a joke and take time to chat with staff.
Educating the Next Generation
As with all professions, dental techniques are constantly improving so in order to provide the best possible service, Ajay regularly attends additional courses to stay up-to-date with the latest advancements in the field. Happily, he is in one of the best positions to do this as he is also on the teaching staff at Melbourne University.
With a foot in both the academic and practical worlds of dentistry Ajay helps educate the next generation of dentists in the technical skills they will need, but also encourages them to see a visit to the dentist from the patient's point of view. He knows it's putting himself in the patient's shoes that can make the difference.
As some people find a trip to the dentist quite daunting, Ajay and his team go the extra mile to put patients at ease and reassure them. For this reason, sedation dentistry is also available for anxious patients or those with dental phobia, as well as for more complex treatments.
Outside of the Practice
Family plays a huge part in Ajay's life and he and Binita spend as much time as they can together with the children. They all enjoy watching or playing sports, and through the children, are involved in supporting and sponsoring the local Junior Football Team, the Ashy Redbacks.
Ajay has found a great way to get fit has been to use his bicycle as much as he can. A real incentive to "get on his bike" has been to take part in rides for good causes, such as the Great Cycle Challenge Australia which helps fight and raise awareness for childhood cancer.
"Whenever we've joined in with an event, the support from patients and the community has been so encouraging, it just makes you want to do more. It gives you an incentive to get fitter, too!"
So, if you spot Ajay and his family out on their bikes around town give them a wave. We look forward to seeing you next time you book an appointment.

Dr Ajay Kapadia | Dentist Ashburton | (03) 9885 4281