Dr Tamara Sundaralingam, Dentist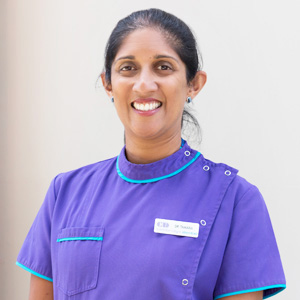 Tamara has always wanted to make a difference in people's lives and feels dentistry allows her to do that. She also loves the clinical side of dentistry and enjoys the social aspect of it which allows her to meet and work with many inspiring people.
I love working with such a great like-minded team at Cambridge Dental, who work together to put our patients' needs first. The continuity of care that we provide also allows me the privilege of developing a great dentist-patient relationship, with both adults and children."
Dental Education
Tamara completed her postgraduate Bachelor of Dentistry (BDent) at the University of Sydney, NSW in 2004. She also has an undergraduate Bachelor of Science degree with Honours in Pharmacology and stays abreast of the latest in dentistry by taking a variety of continuing education courses:
Endodontics
Paediatric dentistry
Radiography
Restorative dentistry
The most fulfilling aspect of being a dentist for Tamara is making a difference in someone's life. "This might be by helping a dental phobic patient overcome their fears, providing a person with the information and ability to improve their oral hygiene, or relieving a patient of a debilitating toothache."
Away From the Office
When she's not at work, Tamara enjoys spending time with her young family by going to the park or playing board games. She also enjoys reading and exercising.
Contact us today to book a convenient appointment!
CONTACT US

Cambridge Dental | (03) 9885 4281